Active Solar Technology
Active solar uses electrical or mechanical equipment [pumps and fans] to increase the usable heat in a system.
Active solar technologies either:
Convert solar energy into usable heat
Cause air-movement for ventilation or cooling
Store heat for future use.
In contrast, solar energy collection and utilization systems that do not use external energy are categorized as passive solar technologies.
Active Solar Technology Versus Passive Solar Technology
Active solar technology includes solar hot water systems. These circulate water, an anti-freeze mixture, or air through solar collectors. The solar collectors can be of various designs, flat plate or concentrating, ideally fixed to track the path of the sun through the sky. Solar trackerscan be driven by either passive or active technology.
A key difference between active solar systems and passive solar systems is that passive passive solar systems require no additional energy to operate; they have zero operating costs. They also emit no greenhouse gasses and can have low maintenance costs.
Active solar-thermal systems, although employing energy via small pumps or fans, can have significantly higher solar savings fractions than passive solar technologies. This is largely due to their more enhanced heat transfer and transport.
Hybrid technologies are proving interesting, using photovoltaics to power pumps or fans.
Case Example
An experimental house built to active solar principles was built in 2004 in county Cork, Ireland. The house, which was monitored throughout 2005 using sensors, is apparently achieving a net energy consumption for space heating and hot water along with electricity to power a heat pump of less than 9kWh/m2/a.[
Solar Thermal Technology
Solar thermal technologies process heat for drying food and clothes, and also have industrial application.
Solar ponds [a 1-2 meter deep pool of salt water] collects and stores solar energy. Solar ponds are capable of producing temperatures of 90 °C in its bottom layer and had an estimated solar-to-electric efficiency of two percent.
Transpired Air Collectors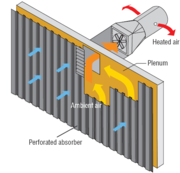 A transpired air collector is a perforated sun-facing wall first introduced in the early nineties.
The wall absorbs sunlight and pre-heats air as much as 22 °C as it is drawn into the ventilation system.
These systems are highly efficient (up to 80 percent) and can pay for themselves within 3 to 12 years in offset heating costs.
Transpired air collectors are highly efficient and cost effective.
Next: Passive Solar Design
Sustainable Homes Index | Defining Sustainability | Energy Efficient Homes | Zero Energy Buildings | Sustainable Home Design | Energy Efficient Appliances | Heating | Active Solar | Passive Solar | Solar Water Heating | Geothermal | Lighting | Water Management | Updates