Leaky House Project Profile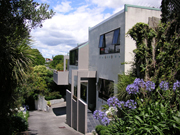 Join me as I take you along the path of repairing a leaky home. You can find quick updates on the remodeling renovations site blog.
This section contains the details of the project to repair my leaky home.
The house was built in October 1989, with a subsequent addition of the eastern deck and entrance portico in 2000.
The construction is fiber cement board with a plaster finish, aluminium joinery and a longrun iron roof.
This includes:
Joinery
Roofing
Bathrooms
Flooring
Finishing
Furnishing
Builder Investigation
Project Management
Next: The Project Brief
Leaky House Project Index | Brief | Rebuild Design | Cladding | Joinery | Roofing | Kitchen | Bathrooms | Flooring | Finishing | Furnishing | Builder Selection | Project Management | Blog