Project Kitchen Issues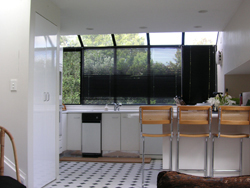 I was hoping to avoid the expense of replacing my kitchen, however, since most MDF kitchens do not fare well when exposed to moisture, my kitchen was starting to deteriorate.
Since I had been advised to allow a bit of budget to change a few things so that spending such a huge sum did at least result in something new to look forward to I added a new kitchen to the list.
The board you can see in front of the kitchen bench covers an area of collapsed floor due to leaking from the roof area somewhere.
Kitchen Issues
Moisture Damage - The kitchen floor was collapsing, and the mosture from the floor materials was seeping up into the cabinetry. I did not want to replace the floor area, as it would mean damaging the floor covering and I was not impressed with the idea of having to replace that before I repaired my home.
Sunlight - The kitchen receives too much sun during summer months, and the overhead glass roof panes cast so much sunlight onto the work surface that they are mostly unsuable. Even my kitchen sponge dries out completely within 5 minutes.
Outlook - Also, although I currently have a lovely outlook over trees, my neighbour is not quite the arborist and has scalped out most of the vegetation which now means I look down on a very ugly house below. In addition, having the sink unit on the far wall of the kitchen means that my back is to the main day living area we call the library [which also has the TV, and away from the main lounge area. This isolates me from guests and maintaining a connected conversation.
Lack of Modern Fittings - whilst the high gloss white cabinets have endured their 15 year life span extremely well, there are a few knocks and nicks that needed taking care of anyway
Flooring - the kitchen floor is totally ruined through the moisture and general wear and tear, plus a couple of accidents with hot pans and rough handling by the dishwasher repair men.
Next: Kitchen Redesign Considerations
Kitchen Index | Issues | Redesign | Options
Related Articles
Understanding Kitchen Layout Design
Kitchen Cabinet Remodelling Tips
Refacing Your Kitchen Cabinets
Kitchen Cabinet Refacing Materials
Outdoor Kitchens For A New Perspective