Leaky House Project Kitchen
The kitchen has a great outlook with plenty of natural lighting. As each level of the house drops down to the next, the overhead ceiling is glass panels, giving the house a very open, connected feeling to the environment. The climate in this area is very temperate, meaning that the glass does not contribute to excessive heat in summer or cold in winter. However, at present the glass roof areas are only single glazed, and as the climate is changing to one that offers even hotter summers and cooler winters, this may be an issue in the future.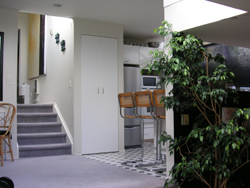 Kitchen Entry From Top Landing
The kitchen area is entered from the top landing that cascades down five steps to the mid-tier level of the house.
This level is shared by the kitchen to the north [remember this house is in the southern hemisphere where northerly aspects are the sunniest], and a library, media area to the south.
The flooring mix of carpet and hard flooring under the bench stools makes sitting at this area somewhat uncomfortable.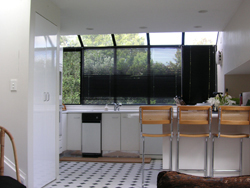 Kitchen Northern Aspect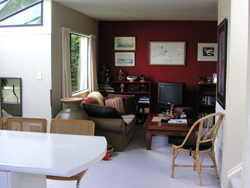 Kitchen Southern Aspect to Day Living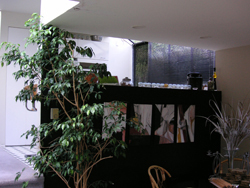 View From Main Living Area
The overhead windows contribute too much sunlight in the summer, making the bench adjacent to the sink unit unusable. The area offers plenty of space.
I was hoping to avoid the expense of replacing my kitchen, however, since most MDF kitchens do not fare well when exposed to moisture, my kitchen was starting to deteriorate.
Since I had been advised to allow a bit of budget to change a few things so that spending such a huge sum did at least result in something new to look forward to I added a new kitchen to the list.
It makes sense to turn the kitchen completely around so that the sink unit is in the benchtop between the two rooms, making it easier for me to remain engaged with both conversation and television viewing whilst meal preparation.
The pantry currently contains all the food items plus all the everyday dinner ware. This is insufficient for current needs, hence I will factor in new storage space to the redesign.
The kitchen is also open to the main living area belong through a wall space. This keeps an open flow to all living areas.
Next: Kitchen Issues
Back to Leaky House Project Index
Leaky House Project Index | Brief | Rebuild Design | Cladding | Joinery | Roofing | Kitchen | Bathrooms | Flooring | Finishing | Furnishing | Builder Selection | Project Management | Blog
Related Articles
Understanding Kitchen Layout Design
Kitchen Cabinet Remodelling Tips
Refacing Your Kitchen Cabinets
Kitchen Cabinet Refacing Materials
Outdoor Kitchens For A New Perspective